Chill on Park's After-School Activity Picks
The start of school doesn't mean the end of fun! Your kids will love having something to look forward to after a long day of classwork, and some of our favorite organizations provide just that, right here in Dorchester.
We've compiled a list of our after-school activity picks to check out this fall… thank us later!
When it comes to variety, the Boys & Girls Club of Dorchester (BGCD) offers anything and everything. From Monday to Friday, kids 7 to 12 years old have access to the club from 2pm to 6pm and teens can stay until 8:30pm. Their extensive list of programs covers athletics, aquatics, early education & care, education (includes daily homework help!), fine arts, media arts, music, and social recreation. You can view more specifics for each area here. There are also teen and tween programs, geared more specifically to the likings of those age groups.
→ Cost/access: BGCD has an "open door" policy for children between the ages of 7 and 18! The membership costs $5.00 per school year, or $10 per year for up to three immediate family members registering at the same time. (So, three siblings can enroll for a total of $10 per school year!) For more specific details and additional options, take a look at the brochure here. There are also membership options for children under 7. You can find that info here.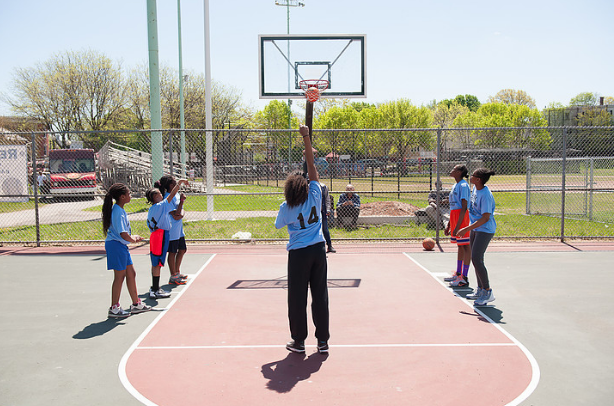 You're probably familiar with All Dorchester Sports League, or ADSL. They had a lot going on in the summertime, including volleyball, baseball, and the National Night Out basketball tournament (to name a few things). Despite programs being offered on a seasonal basis, you're in luck for fall with basketball, fit kitchen, and academic enrichment!
→ Cost: Basketball is $20 to $25 for the fall, fit kitchen is free, and the academic program has a $10 to $20 enrollment fee (no additional cost afterward). Registration is rolling — you can find the application here!
Monday through Friday from school dismissal to 6pm, YMCA After School hosts a number of programs at different locations! Designed for kindergarten through 8th grade (ages 5-13), there are three categories covering academics, health, and social development:
The best part? These programs are super accessible! Locations include Dorchester YMCA Leadership Academy, Everett Elementary School, King K-8 School, Shaw School, and Winthrop Elementary School. Oh, and one more perk: care can be provided on vacation and snow days! That way, parents have nothing to worry about (and can enjoy snow days, too!).
→ Cost: While this program is separate from regular membership, families with a membership can benefit with a discount. Check back soon for specific cost details!
Boston Centers for Youth & Families (BCYF) offer after-school programming for youth ages 6 to 12! The centers, spread between four locations in the Dorchester neighborhood, give kids a safe place to go for homework help and fun activities:
While information for Cleveland and Perkins is pending, there is a bunch to know about Leahy/Holloran and Holland!
Leahy/Holloran has a full-time program for ages 4 to 14, five days per week from 2:15pm to 5pm. There is also an extended hour available from 5pm to 6pm. The program provides a snack, an academic period, science/tech, yoga, woodworking, robotics, and many other recreational activities.
→ Cost: $15/day for the regular hours, + $5 for the extended hour. Enrollment can be done on-site.
Holland has a year-round program for ages 4 to 12. Part-time begins after school, and  full-time includes holidays and vacation days, running from 8am until 6pm. Snacks are provided, and activities include homework help and gym recreation. Kids also have access to the computer lab!
→ Cost: Part-time is $120/week, full-time is $155/week. Enrollment can be done on-site.
Kids who want to bring out their creative sides will love Dot Art's School Partnership Program, which will provide after-school art classes at select schools.
→ Cost: The schedule and cost details are to be released soon through the schools, and should also be posted with Dot Art's program info! You can also find out more through your child's school directly.
Dot Art also has a Saturday program from 10:30am to 12:30pm for ages 5 to 10!
→ Cost: $10 per session.
Beginning October 3, the Fields Corner Branch of the Boston Public Library (BPL) offers after-school homework help at the branch for grades K-8, led by high-achieving high school students! There will also be a retired teacher from the Boston Teacher's Union available on Tuesday afternoons from 3:30pm to 5:30pm for homework. For a complete schedule, refer to the branch calendar. Registration is not required.
An after-school science program will start on November 1 with a teacher from E. Inc. providing more than an hour of extracurricular scientific instruction to kids ages 7 to 12! This program will run every Tuesday through December 6, from 4:30pm to 6pm. Registration for this program is required, and can be done on-site or by calling 617-436-2155.
→ Cost: FREE!
There are a some other fun programs, like English lessons and Lego club, which can also be found on the calendar!
When we visited GRLZradio back in January, we also learned of their after-school program. It just so happens they're now accepting applications for fall 2016! This is a perfect opportunity for a young woman between the ages of 14 and 19 interested in radio broadcasting and community outreach. On the show, DJs and personalities discuss local and national issues from a teen's perspective and also learn skills including soundboard engineering, peer leadership, and workshop facilitation.
→ This one is actually considered an internship, and applications are being accepted until September 30. Fill one out now!

As for us, we would love to see you in the shop when you have an evening free! Once a month, Cindy of the Boston Public Library Fields Corner Branch comes by to host a Children's Story Hour. The next one, featuring silly stories, will be on September 15 from 6pm to 7pm!

Which after-school activities are you looking forward to? Which do you recommend? Chat with us: @chillonpark on Twitter and Instagram!